Bells
Photo by Marcus Fischer



Bells (2021)
glass, ceramic and clay hand bells

Bells are a mysterious object. It is said that they were born when primitive people banged on resonant surfaces to frighten away evil. It had the purpose of calling spirits in different cultures. Especially some glass bells, which have a gong-like sustained note. They offer specific frequency spectrums and particular overtones while inducing a meditative and contemplative feeling. Some have obvious purposes such as calling people to gather, or as souvenirs for tourists, but for many others, it's hard to say why those were made and how they were used.

Aki Onda's installation Bells is composed of a selection of glass, ceramic and clay hand bells Onda collected over the years. It invokes quasi-ethnographic methods of preserving objects and exploring how their former owners may have used them. The objective is to recall lost sounds and sense histories that would otherwise be erased.

Bells was first initiated as a performance work, then converted to an installation. However, it still serves as the platform for performance. There is a cycle-like fluidity. According to Onda, it's a way to learn the objects, meanings behind those, and how those are contextualized in certain circumstances at each time.


This work was commissioned by Portland Institute for Contemporary Art (PICA), as a part of Aki Onda's solo exhibition "A Letter from Souls of The Dead" curated by Kristan Kennedy.


Photos by Tojo Andrianarivo
Bells performance

July 10, 2021
Portland Institute for Contemporary Art (PICA)
Performed with Marcus Fischer, Paul Dickow, Alissa Derubeis, Crimson Ravarra, and Noah Beckham



Photos by Tojo Andrianarivo




Bells performance

2019
Roulette Intermedium (Co-presented by Outpost Artists Resources), New York, USA
Performed with Lucie Vítková and Moko Fukuyama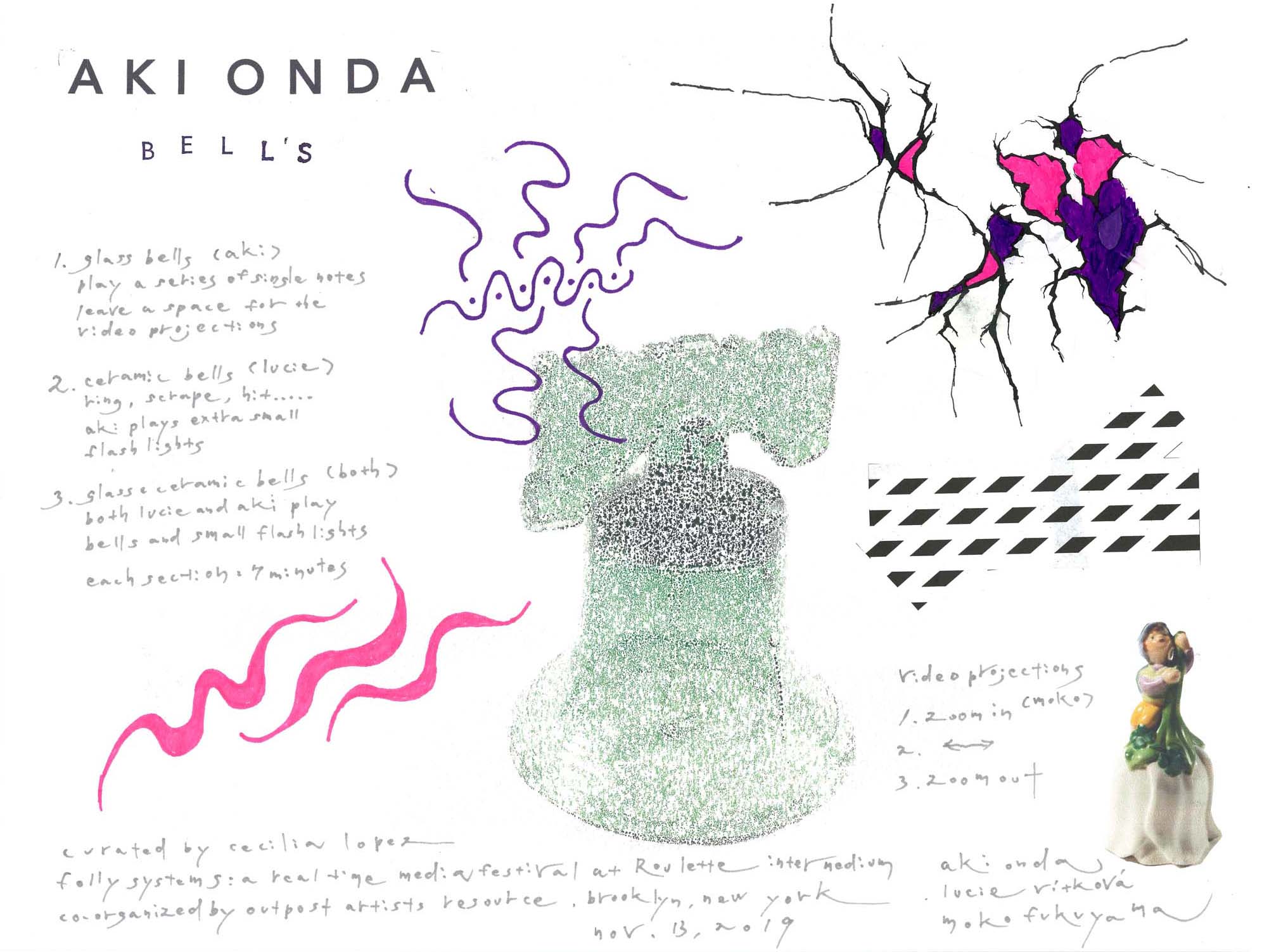 Photos by Caterina Verde