︎ PERFORMANCE
︎ EXHIBITION
︎ CURATION
︎ LECTURE
︎ RADIO
︎ OTHERS






2020

︎December 12 (Sat) - March 21 (Sun), 2021
Aki Onda (two new installations) in "Listening: resonant worlds" at Arts Maebashi, Maebashi, Japan

︎November 21 (Sat, 12 pm & 6 pm GMT)
DJ أمواج a.k.a. Aki Onda "Ghost Frequency" (new commiossion work for radio transmission) at Radiophrenia, Glasgow, UK


Yes, radio transports signals across a variety of distances. But does it leap time...? No. What would happen if it were to jump to the future, passing through both time and space? The sound source of this recording is a series of radio broadcast captured when I visited Morocco in 2010. During the two-week trip to Tangier, Fez, and Marrakesh, I kept making field recordings of daily news or local music programs, recordings which I've now randomly edited for this 60-minute piece. Beyond radio's typical function of frequency relay and capture, I wanted to produce an illusional frequency—collapsing time and space and expanding the territory of our aural imagination. With our activities now delimited by our local vicinity, travel is rare and encounters with others are limited. We have found ourselves hemmed in at a moment of political and social turbulence. I just thought travelling somewhere, even though it's imaginary, could be refreshing and inspiriting for our minds.


︎August 23 (Sun) - 30 (Sun, streaming every evening at 6:30 pm PDT)
Aki Onda "Stack Until It Falls Down" at Portland Institute for Contemporary Art / PICA, Portland, OR, USA








Stack Until It Falls Down was composed by Aki Onda in May 2020 during the lockdown of the COVID-19 crisis. The Fluxus-type score instructs a simple gesture and its repetition. The action of stacking, reflected in the video, suggests activity in our lives or maybe life itself. It's a recurring cycle that culminates in a potentially unfortunate fate. Stack Until It Falls Down was shot at Hurricane Point – a little known place along the Brooklyn shore of the East River. As one of a few places along the river where two currents meet, Hurricane Point developed as a small island made out of the drifted debris from Hurricane Sandy. This location communicates with the harsh reality of life, and Onda's simple gesture becomes a metaphor or poetic response to the unprecedented times. The video was made with Brooklyn-based artist and filmmaker Moko Fukuyama and sound designer Daniel Neumann.

︎July 15 (Wed, 8 pm EDT)
Aki Onda "Captured in The Air" in Isolated Field Recordings Series at ISSUE Project Room, New York, USA

︎

POSTPONED

June 25 (Thu) - 28 (Sun)
Sonic Journey project (Aki Onda workshop and concert with Hong Kong local artists) at the West Kowloon Cultural District, Hong Kong

︎

POSTPONED

June 4 (Thur) - July 30 (Thu)
Aki Onda solo exhibition "Letters from Dead Souls" at Portland Institute for Comtemporary Art (PICA), Portland, OR, USA

︎May 24 (Sun, 4 pm EDT)
Aki Onda video work "For the Souls of the Dead" at Experimental Sound Studio's The Quarantine Concerts (curated by Ka Baird), Chicago, USA

︎

POSTPONED

April 23 (Thurs, 7:30 & 9:30 pm)
Aki Onda "Cassette Memories" at Anthology Film Archives, New York, NY, USA



︎

CANCELLED

March 31(Tue) Che Chen, Charmaine Lee and Aki Onda at Sunview Luncheonette, Brooklyn, NY, USA

︎

CANCELLED

March 25 (Wed)
Aki Onda at TV Control Center, Athens, Greece

︎

CANCELLED

March 21 (Sat)
Akio Suzuki and Aki Onda at Imago Dei Festival, Krems, Austria

︎

POSTPONED

February 22 (Sat)
Aki Onda at West Kowloon Cultural District, Hong Kong

︎

POSTPONED

February 21-22 (Fri, 8 –10:30 pm; Sat, 2:30 – 5 pm)
Creation for Freespace: Exploring Experimental Music Workshop with Aki Onda at West Kowloon Cultural District, Hong Kong

︎February 5 (Wed)
Aki Onda at Audio Foundation, Auckland, New Zealand

︎February 4 (Tue)
Akio Suzuki and Aki Onda at Parnell Train Station (organized by Audio Foundation), Auckland, New Zealand

︎February 2 (Sun, 3 pm)
Akio Suzuki and Aki Onda at Maungawhau Lava Cave (organized by Audio Foundation), Auckland, New Zealand

︎January 31 (Fri)
Akio Suzuki and Aki Onda in Asia TOPA: Asia-Pacific Triennial of Performing Arts at The SUBSTATION, Melbourne, Australia

︎January 21 (Tue)
Aki Onda at Mona, Hobart, Tasmania, Australia

︎January 19 (Sun, 6 - 6.45pm)
Akio Suzuki and Aki Onda in Mona Foma at Annexe Drama Studio, Inveresk, Tasmania, Australia

︎January 18 (Sat, 2.15 - 3pm)
Aki Onda in Mona Foma at Annexe Theatre, Inveresk, Tasmania, Australia

︎︎January 6 - 12 (Mon - Sun)
José Maceda "Ugnayan (Music for 20 Radio Stations)" installation curated by Aki Onda in New Ear Festival at Fridman Gallery (co-presented by Wave Farm), New York, NY, USA





2019

︎December 16 (Mon)
Aki Onda in Outlier at Jack, Brooklyn, New York, NY, USA

︎December 12 (Thu)
Aki Onda "Reflections and Repercussions" in EI December Performance Series (curated by Phill Niblock) at Experimental Intermedia, New York, NY, USA

︎ December 8 (Sun, 4 - 9 pm)
Aki Onda open studio in Second Sundays at Pioneer Works, Brooklyn, NY, USA

︎ December 1 - 31 (Sun - Tue)
Aki Onda Residency at Pioneer Works, Brooklyn, NY, New York, USA

︎November 29 (Fri)
Aki Onda "Reflections and Repercussions" in Toronto Biennial of Art at 259 Lake Shore Blvd East, Toronto, Canada

︎November 13 (Wed)
Aki Onda "Bells" with Moko Fukuyama and Lucie Vítková in Folly Systems (co-organized by Outpost Artists Resource and curated by Cecilia Lopez), Roulette Intermedium, Brooklyn, NY, USA



︎November 6 (Wed)
Aki Onda "Reflections and Repercussions" at The Black Mountain College Museum + Arts Center, Asheville, NC, USA

︎October 23 (Wed)
Aki Onda in La douceur d'un son nouvel at anciens locaux de La Manivelle, Die, France

︎October 22 (Tue)
Aki Onda at Grrrnd Zero, Lyon, France

︎October 12 (Sat)
Aki Onda at Les Ateliers Claus, Brussels, Belgium

︎October 8 (Tue)
Aki Onda "Cassette Memorires" at Stone Bell House in Sonic Circuits (organized by G HMP and Agosto Foundation), Prague, Czech Republic

︎October 5 (Sat)
Aki Onda at Nub Project Space, Pistoia, Italy

︎October 4 (Fri)
Aki Onda at Giardino dei Droidi Custodi (organized by Hybrida), Venzon, Udine, Italy

︎October 3 (Thu)
Aki Onda at Paradoxes, Ravenna, Italy

︎October 2 (Wed)
Aki Onda at Macao, Milan, Italy

︎September 29 (Sun)
Aki Onda in Ausland, Berlin, Germany

︎September 25 (Wed)
Aki Onda in Avant Art Festival, Wrocław, Poland



︎August 25 (Sun)
Aki Onda & Loren Connors in Spectare Vbilibet (organized by Tabitha Piseno) at Magenta Plains, New York, NY, USA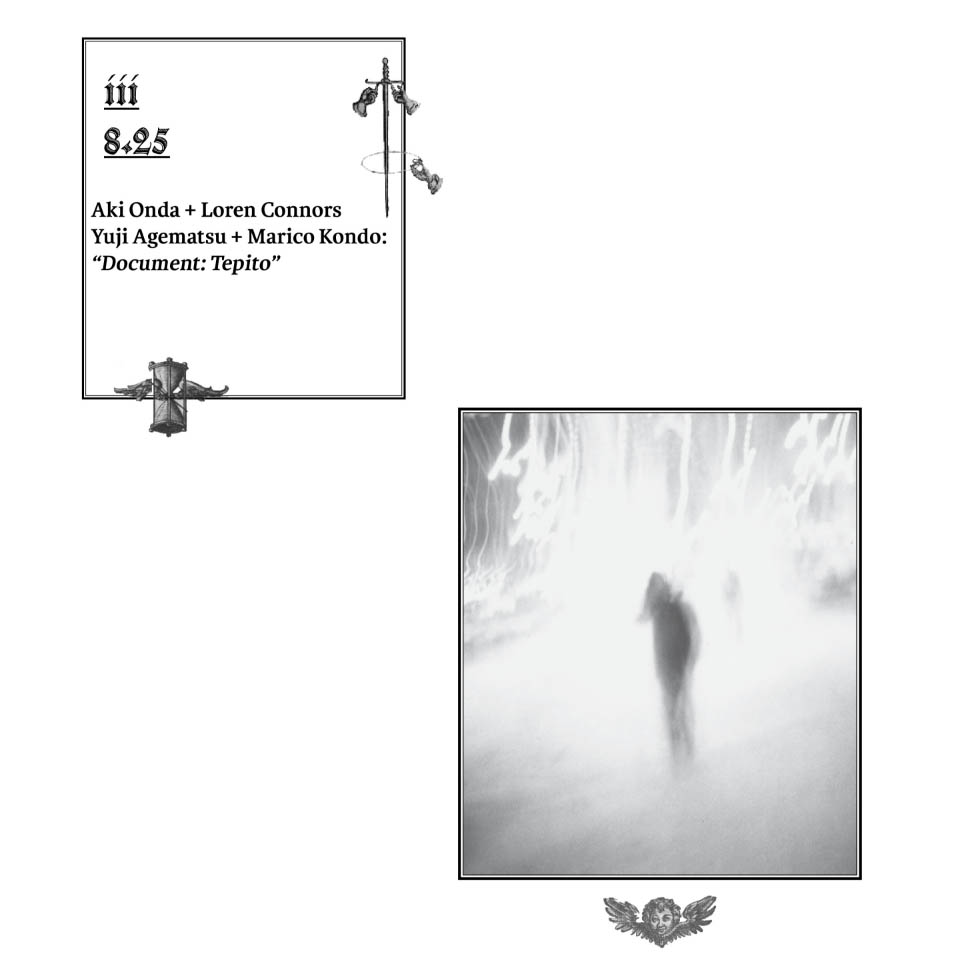 ︎July 18 (Thur)
Aki Onda, Sean Ali, Zach Rowden at H0l0, Brooklyn, NY, US

︎July 14 (Sun, 7-10 pm)
Sean Ali, Leila Bordreuil, Joanna Mattrey trio, guest musicians: Aki Onda and Ben Bennett at 355 Chauncey St, Brooklyn, NY, USA

︎ July 5 - July 14 (Fri - Sun)
Archway Sound Symposium at Five Years Gallery, Archway, London, UK
Artists: Rita Evans, Paul Good and Kirsty Wood, Katz Mulk, Georgia Lucas-Going, Christian Marclay, Makoto Nomura, Aki Onda, Jennifer Walshe



︎ June 26 - 28 (Wed - Fri)
Bard MFA Summer Seminar on José Maceda with Aki Onda, Marina Rosenfeld and Bill Dietz, Bard Collage, Annandale-On-Hudson, NY, USA

︎May 8 (Wed)
Akio Suzuki and Aki Onda in Angelica Festival, Bologna, Italy

︎May 5 (Sun)
David Toop, Aki Onda and Akio Suzuki in Flutter Echo Festival at Cafe Oto, London, UK

︎May 3 (Fri)
Rie Nakajima, Aki Onda and Akio Suzuki at STUK, Leuven, Belgium

︎April 30 (Tue)
Akio Suzuki and Aki Onda at iii, Den Haag, The Netherlands

︎April 28 (Sun, durational performance from 2 - 6 pm)
Rie Nakajima, Aki Onda, Akio Suzuki and David Toop "dara dara" at LA SENNE in Oscillation Festival and Art Brussels (organized by Q.O.2), Brussels, Belgium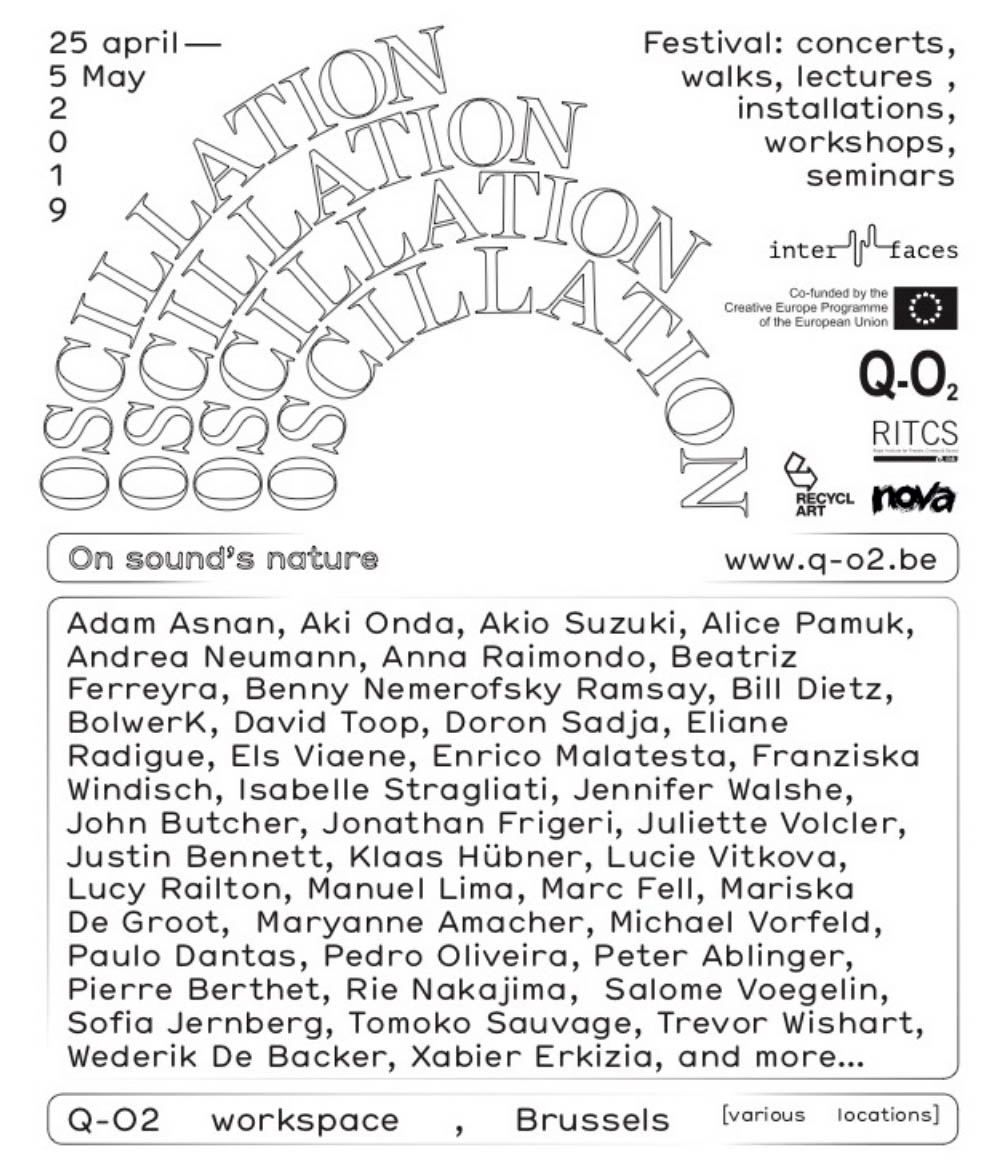 ︎ April 26 (Fri)
Aki Onda talk on José Maceda at RITCS School of Arts in Oscillation Festival (organized by Q.O.2), Brussels, Belgium

︎April 7 (Sun, 8:25 pm)
Aki Onda at Ende Tymes 10 Festival of Noise and Experimental Liberation, Brooklyn, NY, USA



︎April 4 (Thu)
Aki Onda "Reflections and Repercussions" with Samita Sinha at Crow Museum of Asian Art in Soluna Festival, Dallas, TX, USA

︎March 22 (Fri)
Aki Onda, Sean Ali, and Zach Rowden at Areté Gallery (67 West St #103, Brooklyn), Brooklyn, NY, USA

︎March 18 (Mon)
Cecilia Lopez and Aki Onda "Bifurcations" at Roulette Intermedium, Brooklyn, NY, USA

︎March 13 (Wed)
Ka Baird and Aki Onda at Fridman Gallery, New York, NY, USA


︎February 13 (Wed)
"Recalling Voices" - Lin Chi-Wei and Wang Hong-Kai curated by Aki Onda at Kosha33 (organized by ARTWAVE) in TPAM - Performing Arts Meeting in Yokohama, Japan

︎ February 11 (Mon)
José Maceda "Music for Five Pianos", "Two Pianos and Four Winds" curated by Aki Onda, performed by Aki Takahashi, Yuji Takahashi and others, conducted by Josefino Chino Toledo at KAAT Hall in TPAM - Performing Arts Meeting in Yokohama, Japan



︎ February 10 (Sun)
José Maceda "Cassettes 100" curated by Aki Onda, choreographed/directed by Yoko Higashio and Toshio Kajiwara (ANTIBODIES Collective) at KAAT Atrium in TPAM - Performing Arts Meeting in Yokohama, Japan



︎ January 18 (Fri, 2:30 - 4 pm)
Aki Onda talk "Sound + Space" followed by conversation with Kazuo Imai (Marginal Consort) at Djavad Mowafaghian World Art Centre, SFU's Goldcorp Centre for the Arts in PuSh Festival, Vancouver, Canada

︎ January 7, 9, 14, 17, 21, 24 (Mon, 9 pm & Thu, 9 am)
Aki Onda radio shows "Music of José Maceda"— episode 1, episode 2, episode 3 at Resonance FM, London, UK